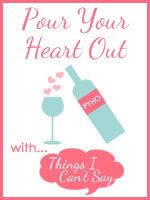 OK, I'm linking up today because I came across this site... Things I Can't Say... and it seemed
to be quite pertinent to me and my big mouth in some way.
Go check her out and see what she has to say... or not... well you get the picture.
My particular heart pouring today is kinda a hard one for me and that's what this is all about isn't
it? This is what this link up is for, a place for one to air one's painful memories, air ones
heartaches, stretch our literary muscles and paint a picture of the gut wrenching pain that
lives in out hearts and oftentimes needs to be shared with a reader, not face to face with a friend
or family member, not discussed and twisted until you can't convey your original feelings.
So here goes.... throughout my life I have experienced rejection, from an early age really,
like the first day of school. I had a fight with Margaret who sat next to me, mostly because
I was English and now living and going to school in Scotland. The centuries old animosity was
still alive and kicking, literally, in Fife in the mid 1970's. My feelings of not fitting in and being different
continued all through school, this was where I learned to change my accent to fit in with
those around me. In high school it continued, mainly because now my parents decided to send me to a
school outside the village we lived in, more reason for ridicule and rejection by my so called peers.
And at age sixteen, the family moved back to England, and my world was reversed.
Suddenly I was a Jock, with a Jock accent living in a town where although my mother had
grown up there, no one knew me. More chameleon like tendencies just to fit in and ease
the pain of rejection.
Then my Dad left.
This was a horrible, horrible time in my life that I'm not even going to go into on my blog.
There's pouring your heart out and there's totally crippling yourself emotionally for the sake of art.
Just be assured that for the next couple of years I was totally reeling from the pain of that
particular rejection.... and this time it I think I did a lot of the rejecting.
So on into my early twenties, although I feel I built myself a strong foundation for my own
life, I was still plagued by the underlying fear of more rejection. There were the pretty girls
who looked down on my chubby self, the smart girls headed to college who no longer had
anything in common with the working girl. The guys who would use me, never abused me,
physically anyway, but could see a vulnerable chick just hoping to find someone at last who
would love and accept her. An easy hit for those not willing to commit.
Now suddenly all grown up and although I'm stronger than ever, thanks mostly to the complete
love and support of Mr Gorgeous, there are still pangs of hurt and insecurity. Still times when I
drive myself out of my mind with worry, the thought that all this self loathing will come back and
haunt me when I'm rejected in some way. Still times of catching my reflection
and hating what I see, hating what
I say and do sometimes, wondering if I was not me would I be my friend?
At this juncture in my life I am feeling it all again, a million fold. I'm trying very hard not to wallow
in self pity, hold my head high and move on. It's not easy and try as I might not to spill my
guts on this blog... it's my freakin' blog and I'll spill if I want to!!!!!!
I don't know how to pick myself up at this point, other than to just keep a routine and move on,
but it's always there nagging at me, there's a lump in my throat and sick feeling in my stomach.
Smiling on the outside and puking with nerves on the inside.
There.... said it... out there... cannot be undone.
Still waiting for Spud to crochet me a silver lining, maybe she can crochet me some
big girl panties too so I can just shut up and put them on and get over it.